2019 Amazon/Negro Rivers Expedition
Introduction
We are gearing up for our 4th River Science Expedition, this time into the heart of the Amazon River basin to the Rio Negro.  Our week-long expedition will lead us from Manaus up the Rio Negro into some less frequently visited areas of this fascinating tributary.  For scale, the Rio Negro delivers about twice the amount of water to the Amazon than the Mississippi River delivers to the Gulf of Mexico.  Our international team of scientists and science enthusiasts will be guided by local experts in our effort to improve our understanding of this fascinating ecosystem.
Participants
Beth Bagley
I have been with WHRC for seven years and currently manage the activities, functions, and stewardship of our Board of Directors, Honorary Directors and President's Council members.  Previously, I served as WHRC's Director of Annual Giving and Events. While living in the New York-Connecticut area I enjoyed a 17-year corporate career in reinsurance brokerage and marketing prior to turning to non-profit work.  I have a BA in Economics from Connecticut College, with a focus on environmental economics, and spend much of my spare time pursuing outdoor activities.  I am excited to explore this key area where our scientists work.
Kristina Brown
I have always been interested in the connections between rivers and the ocean, especially in the Arctic where I have been working since 2006.  My research investigates questions about freshwater impacts on Arctic Ocean biogeochemistry (or the natural chemical processes that are most relevant to organisms that live in the ocean), including the importance of river inputs and the seasonal cycle of sea ice.  I use the natural geochemical "fingerprints" of different freshwater sources to better understand the pathways they follow and their local and regional importance.  As a Visiting Fellow with Fisheries and Oceans Canada, I am continuing the work I began as a Postdoctoral Scholar at the WHOI Coastal Ocean Institute, investigating the biogeochemistry of rivers flowing into the Canadian Arctic Archipelago.
Neal Brown and Judy LaBelle
Neal: I practiced law, primarily in New York City, for 50 years before Judy and I retired and moved to Costa Rica.  Much of my time during those years, professionally and otherwise, was devoted to land conservation and other environmental efforts.  George Woodwell telephoned me in the early 70's at the suggestion of a mutual friend to ask if I might help with wills and perhaps other matters as he and his family had recently moved to Massachusetts.  Thus began a relationship that would span nearly five decades, including the years since my last WHRC board meeting in October 2012.  During that period, it was my good fortune to have participated in the creation and growth of WHRC as its general counsel and an officer under George's leadership.  Among the many memorable experiences was assisting with the creation of IPAM, WHRC's Brazilian affiliate, and the exposure to scientists and their research efforts in the Amazon.  Having been unable to take earlier opportunities to join a WHRC Amazon trip, we seized the opportunity for this one.
Judith: Neal and I met negotiating the first conservation easement after New York law authorized this technique.  Environmental law and land conservation were central to my practice while a partner at Berle, Kass & Case in Manhattan.  In the early 1990's, I took a leave of absence from the practice to be Counsel and Deputy Director of the NYS Commission on the Adirondacks, followed by a mid-career fellowship at the Harvard Graduate School of Design as a Loeb Fellow in Advanced Environmental Studies, and service as Corporate Counsel for the National Audubon Society.  I then transitioned to the non-profit sector and was the founding President of Glynwood Center, an early leader in the fields of sustainable agriculture and regional food systems.  Since retiring and moving to Costa Rica I have continued to provide informal advice to various nonprofits.  My other interests include birdwatching, shibori and bookbinding.
Jean Bienvenu Dinga
The Congo Basin is the second most powerful river in the world after the Amazon; it is the best possible place for my science.  Hydrology and water chemistry of the Congo River led me to WHRC's Max Holmes in the USA and then to Bernhard Peucker-Ehrenbrink at WHOI.  The previous expedition on the Amazon allowed me, as head of the Hydrological Service of my country, to realize a dream to compare in-situ the physical chemistry of the water of the two largest rivers in the world (Congo and Amazon).  I am looking forward to returning!
Diane Falconer
I am an environmentalist and am thrilled to be part of the WHRC/WHOI Amazon expedition.  My interest is to gain knowledge and insights on this trip to inspire others to become more involved in addressing climate change.  In addition to Climate Change, I am involved with organizations that focus on biodiversity and the conservation of wolves.  I use my background as a marketing professional (Apple Computer, Sun Microsystems, Exago and NTL), the leader of a non-profit, and an artist to contribute to "marketing" environmental messages.  I hold a BA in Economics, UC Berkeley; an MBA, Columbia University; and a Masters in Planning, University of Adelaide.
Jennifer Francis
Before joining WHRC as a Senior Scientist in 2018, Jennifer spent 24 years as a Research Professor in the Department of Marine and Coastal Sciences at Rutgers University, where she studied the Arctic climate system and how rapid Arctic change is affecting areas beyond the Arctic, particularly extreme weather in the northern hemisphere.  Jennifer also taught courses in satellite remote sensing and climate-change issues, and co-founded and co-directed the Rutgers Climate and Environmental Change Initiative.  Earlier this year, she testified to the U.S. House of Representatives Science Committee and is regularly interviewed for radio and TV news programs and quoted in major media outlets.  Jennifer earned a B.S. in Meteorology from San Jose State University and a Ph.D. in Atmospheric Sciences from the University of Washington.
Rick Gill & Betsy Jewett
Rick studied at Wright State University, MIT, and received his PhD in Human Factors Engineering from University of Illinois Champagne Urbana.  After a teaching career at Wright State and University of Idaho, he has worked as an expert witness in accident reconstruction since 2002.
Betsy is a graduate of Dartmouth College, with Masters degrees from Yale School of Forestry and Environmental Studies and School of Management.  She has served as staff and board member for a number of conservation organizations from The Nature Conservancy (staff) to current board member of Western Rivers Conservancy. She was a founder of Inland Northwest Land Conservancy in Spokane, WA and served as a volunteer and board member for over 25 years.  She is also a landscape oil painter.
Together we share a passion for oceans, lakes and rivers.  We spend much of our free time paddling with whales and dolphins in our Hawaii home or exploring the lakes and rivers of northwest Washington and northern Idaho from our home outside Spokane, WA.  We are excited to explore the biggest river on Earth with your team and learn more about the effects of climate change on riparian systems.
Alan and Fran Greenglass
We're happy to be part of this adventure on the Amazon and Rio Negro Rivers, and to support the work of the Woods Hole Research Center.  We became familiar with WHRC through our daughter, Nora, who previously worked there in environmental science and policy.  We currently live in Delaware, after many years in Connecticut and Rhode Island.
Fran graduated from Rhode Island School of Design, and after a career as an architect, she pursued a master's degree in public administration from UConn.  Now retired, she enjoys her time doing ceramics, and rowing.
Alan graduated from Columbia University, with a degree in Engineering, and then received his M.D. from Brown University.  After training in Internal Medicine he practiced primary care, and became a physician executive.  Most recently he retired from Christiana Care Health System in Delaware.  His health care interests have included population health, payment reform, and health care disparities.  His other interests include gardening, environmentalism, and bicycling.  He is currently President-elect of Physicians for Social Responsibility.
R. Max Holmes
I've loved rivers for my whole life, first as a small kid flipping over rocks in Northern Michigan streams looking for bugs, then as an angler, and finally as a scientist.  My love of "mucking about in streams" has never waned, and my scientific curiosity about what we can learn about our changing planet by studying river chemistry and discharge continues to grow.  Much of my research takes place in the Arctic, but an increasing amount is done on other rivers around the world.  Lately I've been thinking a lot about how to bring together the fly fishing and science communities to study and protect rivers in the US and beyond.  We're just getting started on this new endeavor but I'm really excited about the potential!
Ben Ives
I am an architect and a husband and father of two young boys.  I have architecture degrees from the University of Virginia and Parsons, The New School for Design.  I work closely with many Brazilian builders in the Boston area and can't wait to see Brazil.  As a visual person, I enjoy observing the processes of nature around me. Seeing as well as having the scientific information to describe 'hidden' interconnections in the natural world is a special event.  As an architect, I try and integrate natural processes, phenomenon, like sunlight, into my practice and study the science of building to improve human comfort and conserve resources.  I enjoy basketball as well as camping.
J. Atwood ("Woody") Ives
I am a retired business man and graduated from Yale University and Stanford University Graduate School of Business.  My professional career includes CPA, investment banker, and I retired as CEO of Eastern Enterprises.  Currently, I am a Trustee of Museum of Fine Arts-Boston and Overseer at WGBH Education Foundation.  I am concerned about global warming and its effect on life on our planet.
Joy Jacobson
I grew up on the Southern California coast in the 1950s, 60s and 70s. Even then my family would take note of the impact major weather events, as well as large road and building construction projects, would have on our ocean backyard. You can't live next to the ocean and not understand what a profound impact what happens on land has on the coastal environment. What we didn't appreciate then was how extensive that impact would become—reaching way beyond our local tide pools and coastal waves. For the last 20 years I have owned a landscape design/build firm in Northern Virginia. My professional life has further deepened my understanding of the impact our 20th Century lifestyle is having on the environment. When I started my business, it was possible to give my clients very accurate guidance on what to plant and how to maintain it. There has always been variability, but there used to be a predictable range for temperatures and precipitation. That's gone. In my world, climate change isn't something that will happen in the future. It's now. It impacts my professional decisions every day. I'm thrilled to have this opportunity to visit the Amazon at such a critical time and to learn about its ecosystem from such knowledgeable guides. I'm also looking forward to acquiring a deeper understanding of the critical work being done by the Woods Hole Research Center.
Thomas, Zola and Mateo Kehler

Thomas has been a member of the WHOI Corporation since 2007 and ascended to Honorary in 2013.  After graduating from Princeton University in 1960, a stint teaching in East Africa and an MBA from Harvard in 1966, he has spent most of his working life outside the United States, pursuing start ups in food processing and cut flower export in Colombia in the '60s and '70s, and salmon aquaculture and cranberry production in Chile in the '80s, '90s and beyond.  With son John Paul he has devoted the last ten years to the development of a residential neighborhood and a higher education campus in Puerto Montt, Chile.  He divides his time among residences in Hanover, NH, Cali, Colombia and Puerto Montt, Chile and spends free time chasing after his children and grandchildren and throwing flies at big trout and salmon in the northern and southern hemispheres.  He accompanied WHOI staff and scientists on an expedition to South Georgia in October, 2011.
Zola is an eighth-grade student at Hazen Union Middle School in Hardwick, VT.  She enjoys running, gymnastics, art and has a passion for ecological conservation.  Zola is part of her school's "Green Team" and works on educating members of her community about the Crisis of Climate Change and what it means for her generation.  Zola loves to travel and is excited about the opportunities to experience new cultures.
Mateo started Jasper Hill Farm in Greensboro, VT with his brother Andy in 2003 where they produce a wide range of cheeses from the milk of their herd of 45 Ayrshire cows.  In 2008 they started a new venture, the Cellars at Jasper Hill, a 22,000 square foot underground aging facility, intended to lower the barriers to entry for new cheesemakers by maturing, marketing and selling cheeses, managing logistics and administration and providing technical support to producers in Vermont.  The Cellars at Jasper Hill is a social enterprise committed to developing economic mechanisms to keep Vermont's working landscape working, with a mission that involves conservation of Vermont's agricultural soils and water resources.  Currently, Jasper Hill operates two cheese plants, a value-added pork business, two cow dairies, manages 1200 acres of grassland and is in the process of starting up an 800-goat dairy to supply milk for a new line of cheeses.  Mateo lives on the farm in Greensboro, VT with his wife Angie and children Reed and Zola.
José Mauro Moura
I am an Assistant Professor at the Federal University of Western Pará (UFOPA).  I have a degree in Biological Sciences from the Federal University of Pará -UFPA (2000), a MSc (2005) in Ecology of Agroecosystems, and a PhD (2010) in Chemistry in Agriculture and Environment, from the Center for Nuclear Energy in Agriculture (CENA).  Luckily, I grew up seeing the biggest (Amazon) and one of the most beautiful (Tapajos) rivers in the world, meeting in front of my city.  I'm from Santarem and a few years ago I returned to my home city to work as a professor at the same university I graduated from.  However, just the pleasure of seeing the rivers was not enough.  I wanted to understand their behavior and functioning.  So, after finishing my PhD, I decided to focus my research on water.  My experience is in the area of biogeochemistry of aquatic and forest ecosystems, with an emphasis on the flow of organic and trace gases (Radon-222 and methane).
Betsy Munson
I have lived in Falmouth since 1970 with close ties to Woods Hole through family and many neighbors and friends who worked at WHOI.  My oldest daughter attended the Woods Hole School until it was closed.  Though I live and work as a Realtor in Jupiter Florida, Falmouth is still home with two daughters and six grandchildren the reason to visit quite often.  Currently I am working on a Masters in Leadership at Palm Beach Atlantic University and enjoying the challenge, my cohort,and professors.  One year to go!  My involvement within the Jupiter community centers around the beach and ocean conservation through the following:  Chair of the Beach Committee (Jupiter), Loggerhead Marine Life Center, Jupiter Inlet Lighthouse, and Friends of Jupiter Beach (we keep the beach clean and dog friendly).  Also, just in case I don't have enough to do, I am on my Rollins College 50th Reunion Committee.  Though not a scientist, I am excited to participate on this trip and share what I have experience with others. Look forward to meeting everyone in a few weeks.
Bernhard Peucker-Ehrenbrink
Growing up, we used to spend some of our summer vacations on tributaries of the Danube, folding boats out of newspapers and damming the flow with pebbles and boulders.  It took me some time to appreciate how important rivers are to understanding the chemistry of seawater.  Now, river research is at the core of my research program at WHOI.  Organizing river expeditions like this one is the best way I can imagine to learn about rivers, coordinate river research, and spend time with friends surrounded by beautiful landscapes, fauna and flora.  Enjoying good food, drinks and discussions in a relaxed atmosphere adds to the fun.
Rob Powel
I'm a recently retired physician.  I grew up outside of Boston, MA and in S. Dartmouth, MA.  I went to Brown as an undergraduate and Brown Medical School.  I moved to Park City, UT in 1990 and presently spend the summer in S. Dartmouth and winter in Park City.  I am married and have three boys who are spread around the country.  My interests include Architecture, Alternative energy, Conservation, Geriatric Medicine, Affordable Medical care, Cutting Brush, and, Skiing.
Rick Semels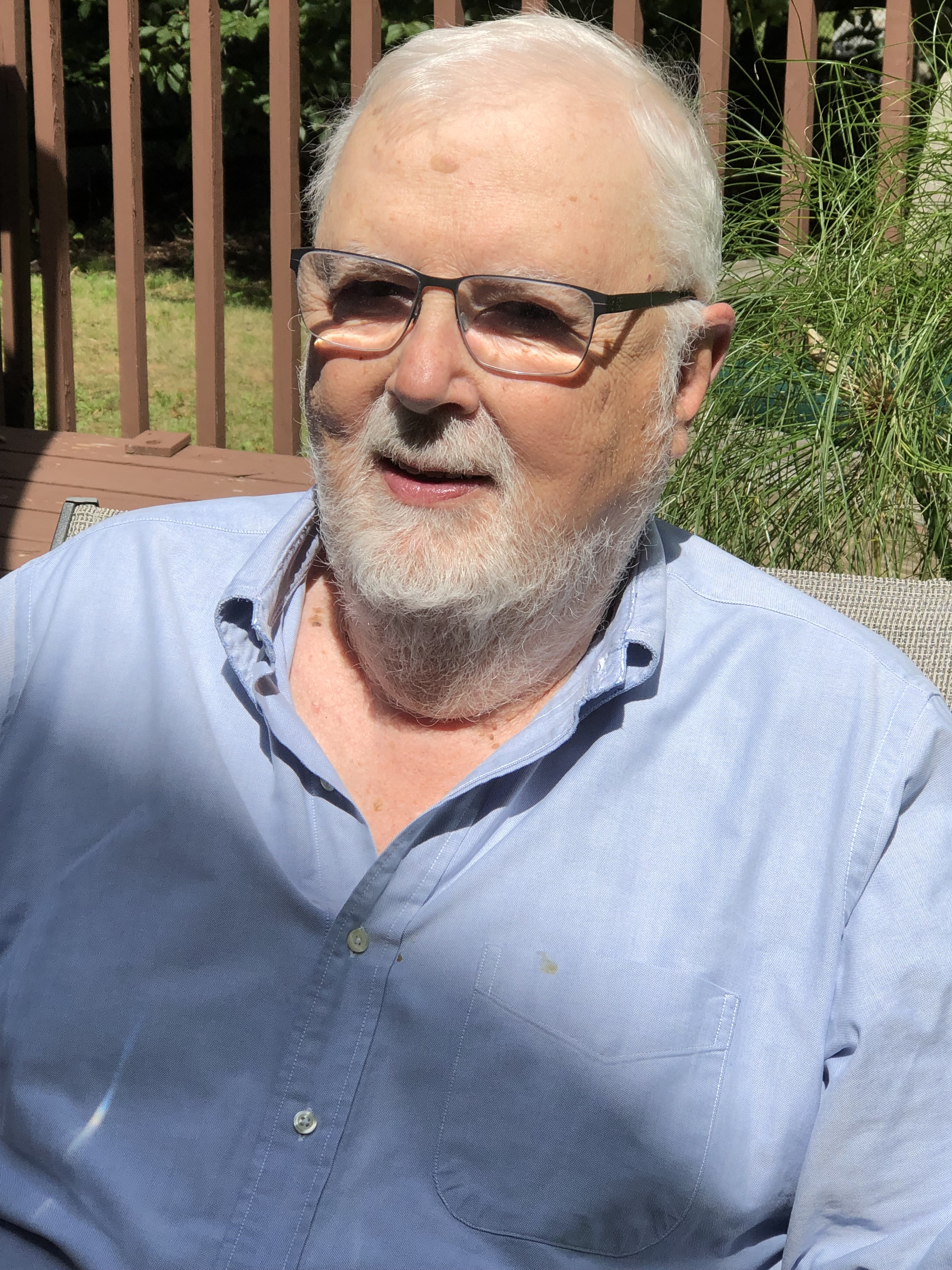 Rick: I am retired and live with my wife in Cos Cob, CT.  About 10 years ago we were on our way to Martha's Vineyard and on a whim I suggested we stop at Wood's Hole.  I arranged a walking tour of WHOI and thru sheer luck the Knorr was in home port – so we got a tour of her to boot.  I was hooked.  I've been doing whatever I could with WHOI since.  We even got a tour of the ship that followed Knorr – the Neil Armstrong – when she was in New York!   Two years ago we participated in the Columbia/Snake River cruise – great time.  My wife demurred on this Amazon trip so I talked my brother-in-law Rob Powel to come along.  We are very excited to join this expedition.
Rob Stenson
I have always had a compelling love of science. I am a Registered Nurse by training and have a Masters degree (MS) from Northeastern University.  My credentials currently are as a Nurse Practitioner in Massachusetts.  I practiced in the ER and ICU and as an NP in Internal Medicine until retiring a few years ago, after nearly 30 years of practice.  Currently I have the great privilege of working with Max Holmes as a volunteer "citizen scientist" with the Cape Cod Rivers Observatory (CCRO).  My personal goal for CCRO is to show a correlation between humans and the consequences we impart to the environment via our rivers.  I hope to approach this similarly to the science in medicine where blood is drawn and analyzed to assess what is normal and what is not. The river is our patient, we are the vectors of harm as well as the hope for the cure.  I am looking forward to this exciting trip as well as meeting and working with so many knowledgeable people studying the effects of climate change.
Anya Suslova
I graduated from Teri University in India with a Masters degree in Climate Science and Policy.  Born in the Siberian arctic indigenous village of Zhigansk, I was a citizen scientist before there was "citizen science."  I met Max Holmes and a group of scientists through my father, when Max was collecting water samples on the Lena River.  I continued to retrieve samples throughout the year to help the scientists' research.  Collecting these samples as a teenager shaped my current interest, which bridges climate science and indigenous peoples.  For my masters I researched the resilience of arctic populations to climate change.
Kelly Westerhouse
I manage Annual Giving at WHOI, raising funds to ensure our scientists and engineers have the support they need to answer the next big question about the health and functions of our oceans.  A large part of what I do is outreach and education – telling the WHOI story and connecting people with scientists so they hear first-hand how critical the ocean is to human health and the health of our planet.  I'm originally from Albany, NY and spent many summers in the Adirondacks and near Cooperstown.  I moved to Boston to attend Emerson College and never left.  I found my way to WHOI four and a half years ago and am thrilled to be part of the mission to advance our knowledge of the ocean.
Dottie and Ken Woodcock
Dottie: I was born and raised in Rhode Island, the "Ocean State," and moved to Washington, DC after college to work for the government.  Rhode Island, where we spend our summertime and some holidays, gives me my "sense of place."  I love the coastal salt ponds, the light at dawn and dusk, my perennial gardens, the woods and fields. In DC, the natural world also brings me joy as we live very close to National Park Service woods and not far from the Potomac River.  My passion for conservation has been enhanced by my committee involvement with the Garden Club of America and by former service on the MD/DC chapter of The Nature Conservancy.  I have supported TNC's conservation efforts in the Potomac River/Anacostia/Chesapeake Bay watershed as well as their work in Brazil and Colombia. I so look forward to our Amazon experience!
Ken:  A resident of Washington DC, Mr. Woodcock earned his BS in Mechanical Engineering at Lehigh University and Masters in Business Administration from the University of Pittsburgh. Following graduation he was a Development Engineer at E. I Dupont de Nemours and Co. developing Corian, a synthetic marble. He then served as a Commissioned Officer in the US Public Health Service (1967-69) on the Cost of Clean Air—-the first nationwide study of the economics of forthcoming US clean air legislation. When the Environmental Protection Agency was formed, he provided technical analysis to the EPA General Counsel and head of enforcement. During the 1974 Arab Oil Embargo, Mr. Woodcock served as the Environmental Advisor to four Energy Czars at the Federal Energy Administration.
After government service, he was one of the founders in 1981of the AES Corporation, a global electric power company that operated in 30 countries at one time and employed 30,000 people. AES operates a wide range of power supply options and electric distribution companies. He began developing the $2.2 billion Mong Duong 2 power plant in northern Vietnam in 1995 that now provides electricity to the Vietnamese grid. Over the last 20 years, he has traveled to Vietnam well over a dozen times and was engaged earlier with the Vietnamese embassy in Washington
Mr. Woodcock retired from AES in 2004 and is very active in the non-profit sector in Washington DC, Rhode Island and Pennsylvania. He focuses on land and historic preservation, education, music and the arts.
Scott Zolkos
Originally from western Massachusetts and a former WHRC research assistant, I am now completing my Ph.D. in ecology at the University of Alberta in western Canada.  My Ph.D. research investigates the effects of permafrost thaw on the movement and transformation of carbon and other elements in arctic ecosystems.  I study this because I've always been fascinated with the connections between earth systems, how human activities influence ecosystem resilience, and the implications of environmental change for the future of our biosphere. Through pursuing this fascination, a goal of mine is to increase understanding of and appreciation for our planet, so that we become better stewards of our environment. I am thrilled to participate in the Amazon expedition and for the opportunity to engage with others who are as passionate and curious about science and the environment.