After a long stint in Prince George (sampling the Willow, McGregor, Nechako, and Blackwater tributaries), yesterday we departed for Quesnel, a quaint vacation town and former hub of the gold rush. Along the way, we stopped at a Fraser main stem sampling site along the Cariboo Highway. We came upon this site almost by chance last year when our original site turned out to be less than ideal. We cruised up the highway a bit and spotted a potential access point…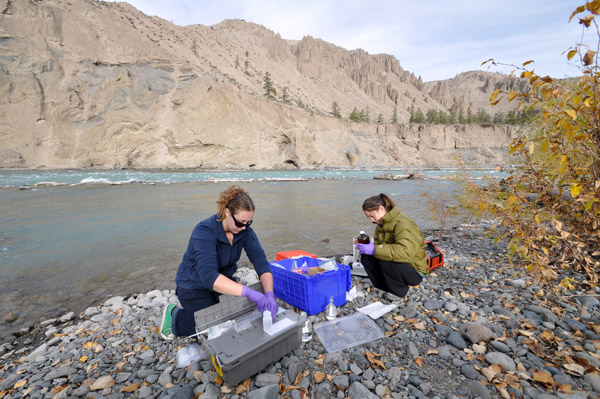 Somewhat to our surprise, we discovered that the proprietors of the Stone Creek RV park hailed from Germany. German connections have been a curiously frequent theme of this sampling trip. First of all, all three members of this year's team speak German (notably including one native speaker). In addition, Tim Eglinton's lab at WHOI (also involved in the world rivers project) is currently relocating to ETH in Switzerland. But we have also discovered that there is a particular Swiss/German influence in British Columbia, highlighted by small businesses such as this RV park, a Bavarian bakery in Lillooet, and a Swiss bakery in Valemount. It seems many Swiss and Germans came to this area over the past decades, and it is interesting to encounter their unique contributions to local culture. Today at the RV park, the owner chatted with us about his previous employment in Kitimat (a community on the coast of central B.C. created to sustain the Alcan aluminum smelter, powered by water diverted from the Nechako River) and the pulp mills in Prince George which dump their waste into the Fraser, giving the stretch of river flowing by his home a distinctive aroma and sudsy surface. He gave us Edelweiss flowers carved from tree twigs before we descended to the river to sample.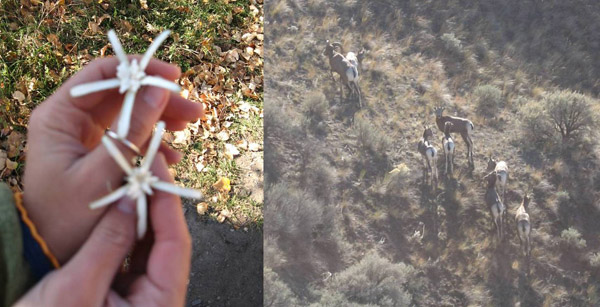 Today we sampled the Chilcotin River, a tributary flowing through the dry belt between the Coast Range and Cariboo/Rocky Mountains. This truly unique corner of B.C. features bunchgrass, bighorn sheep, and stunning sedimentary hoodoos. Again, history and local traditions imprint themselves on our scientific endeavors, as our sampling site included abandoned log cabins from bygone ranching days and sights of First Nations fishing points. But even a spot like this is not static. When we returned to this site today we discovered newly built structures, likely used for the local practice of air-drying salmon under tarps in the arid winds of this region. On our drive back to the highway, we spotted a group of bighorn sheep, which the surrounding nature preserve is intended to protect – a real treat! We also watched as countless lumber trucks rolled into the hillsides empty and back towards Williams Lake fully loaded. Not all the wildlife in the Cariboo are given special sanction.