2017 Columbia & Snake Rivers Expedition
Astoria, Oregon to Clarkston, Washington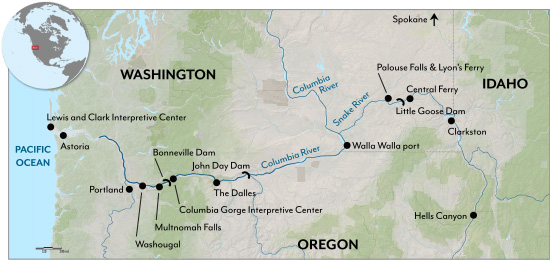 In October 2017, scientists of the Global Rivers Observatory embarked on their third river expedition, this time to the Columbia & Snake rivers in the Pacific northwest aboard the 32-passenger MV Island Spirit. The Columbia River is the largest river in the Pacific Northwest and forms most of the border between Washington and Oregon before emptying into the Pacific. The Snake River is the Columbia's largest tributary. Guests were invited to work alongside an international team of GRO scientists as they develop projects and collect samples, participated in evening discussions and presentations, and took side trips to explore both natural and engineered areas along the rivers.
Participants

Megan Behnke
I come from Juneau, Alaska – a community surrounded by natural beauty. As I learned to sail and kayak through the complex network of fjords and channels in Southeast Alaska and explore up glacial rivers into glacial ice caves, I grew a deep love for my northern home. During my undergraduate program in chemistry at St. Olaf College, I journeyed with a group of aquatic and terrestrial researchers from the Woods Hole Research Center's Polaris Project to the Kolyma River in northeastern Siberia to investigate the fate of ancient carbon that is newly emerging from thawing permafrost soil. There, I discovered my passion for carbon biogeochemistry. Now, as a PhD student at Florida State University working with Dr. Robert Spencer, I am intrigued by the chemical processing of dissolved organic carbon as it travels through stream systems, and by climate change's influence on carbon chemistry, arctic ecosystems, and high latitude communities.

Kristina Brown
I have always been interested in the connections between rivers and the ocean, especially in the Arctic where I carried out my PhD research. As a Postdoctoral Scholar at the WHOI Coastal Ocean Institute, my research focuses on tracing carbon and freshwater inputs to the Arctic Ocean using the geochemical "fingerprints" of their different sources. I started my fellowship at WHOI in November 2014 and the Amazon River expedition (December 2014) was my first introduction to the Global Rivers Observatory (GRO) research group. I couldn't have imagined a better platform to meet and get to know the GRO researchers, but I was also delighted to be joined by such an enthusiastic and interested group of WHOI and WHRC supporters. The upcoming floating workshop on the Columbia and Snake rivers promises to be another truly memorable experience.

Jean Bienvenu Dinga
The Congo Basin is the second most powerful river in the world after the Amazon; it is the best possible place for my science. Hydrology and water chemistry of the Congo River led me to WHRC's Max Holmes in the USA and then to Bernhard Peucker-Ehrenbrink at WHOI. The expedition on the Amazon allowed me, as head of the Hydrological Service of my country, to realize a dream to compare in-situ the physical chemistry of the water of the two largest rivers in the world (Congo and Amazon). Success in building the Global Rivers Observatory!

Greg Fiske
I am a Senior Geospatial Analyst and the chief cartographer at Woods Hole Research Center. I have been working with global-scale river related geospatial data since 1999. Bridging the gap between art and science, I believe that maps are the ultimate tool for communication. My interests include the use of maps and geospatial technology to facilitate and communicate earth systems science. My day-to-day activities include managing the many technical aspects of the Center's GIS activities, cartography, database administration, developing computer code, and complex spatial modeling and analysis. At last count, I've created over a thousand maps of rivers, watersheds, and related topics. Many of these maps have found their way into scientific journal articles, books, websites, art exhibits, map contests, conference presentations, and the media.

Rick Gill & Betsy Jewett
Rick studied at Wright State University, MIT, and received his PhD in Human Factors Engineering from University of Illinois Champagne Urbana. After a teaching career at Wright State and University of Idaho, he has worked as an expert witness in accident reconstruction since 2002.
Betsy is a graduate of Dartmouth College, with Masters degrees from Yale School of Forestry and Environmental Studies and School of Management. She has served as staff and board member for a number of conservation organizations from The Nature Conservancy (staff) to current board member of Western Rivers Conservancy. She was a founder of Inland Northwest Land Conservancy in Spokane, WA and served as a volunteer and board member for over 25 years. She is also a landscape oil painter.
Together we share a passion for oceans, lakes and rivers. We spend much of our free time paddling with whales and dolphins in our Hawaii home or exploring the lakes and rivers of northwest Washington and northern Idaho from our home outside Spokane, WA. We are excited to explore the biggest river in our region with your team and learn more about the effects of climate change on riparian systems.

Alan and Fran Greenglass
We're happy to be part of this adventure on the Columbia and Snake Rivers, and to support the work of the Woods Hole Research Center. We became familiar with WHRC through our daughter, Nora, who previously worked there in environmental science and policy. We currently live in Delaware, after many years in Connecticut and Rhode Island.
Fran graduated from Rhode Island School of Design, and after a career as an architect, she pursued a master's degree in public administration from UConn. Now retired, she enjoys her time doing ceramics, and rowing.
Alan graduated from Columbia University, with a degree in Engineering, and then received his M.D. from Brown University. After training in Internal Medicine he practiced primary care, and became a physician executive. Most recently he retired from Christiana Care Health System in Delaware. His health care interests have included population health, payment reform, and health care disparities. His other interests include gardening, environmentalism, and bicycling.

Lorna Grenadier
Lorna has resided in Washington, D.C. since 1972, with a three-year hiatus to Los Angeles in the 90s. She served in the U.S. Department of Justice for 35 years, primarily in the Civil Rights Division assisting crime victims whose individual rights and liberties were violated (police brutality, hate crimes, slavery, etc.). She traveled throughout the United States and abroad conducting training on those issues and has done personal travel that took her around the world and more recently to Newfoundland, the Arctic and Paris. Lorna is presently involved with her community and the arts, being a founding Board member of the Foggy Bottom West End Village, docenting at the National Portrait Gallery and the U.S. Supreme Court, ushering at the Kennedy Center and the Shakespeare Theatre, and escorting talent for the Kennedy Center Honors and Presidential Inaugurals. She studied history and government at the University of Texas in Austin and holds an M.A. in political science from the University of Pennsylvania. She loves learning new things and meeting new people.

Mark and Robin Hayes
Mark and Robin joined as members of WHOI after moving to Falmouth MA in 2014. Mark has had a long-standing interest in marine biology and environmental sciences since spending a semester at Duke University's Marine Lab in Beaufort, NC as part of his biology degree from Davidson College. While in Falmouth we have enjoyed visiting WHOI labs and learning about the important work being conducted here. Native North Carolinians, we moved to Massachusetts 17 years ago for Mark's work in the biotechnology industry, where he enjoyed a long career at Genzyme Corporation and a subsequent startup, Synageva Biopharma. An immunologist by training, Mark also spent a decade performing research and review at the Food and Drug Administration. Robin completed a long career as a commercial real estate attorney and partner at Holland & Knight, and we are now enjoying retirement and splitting our time between the Carolinas and Falmouth. We have always loved the outdoors and were excited to have the opportunity to explore a special place while supporting the important endeavors of WHOI scientists through a venture like the Global Rivers Observatory project.

R. Max Holmes
I've loved rivers for my whole life, first as a small kid flipping over rocks in Northern Michigan streams looking for bugs, then as an angler, and finally as a scientist. My love of "mucking about in streams" has never waned, and my scientific curiosity about what we can learn about our changing planet by studying river chemistry and discharge continues to grow. Much of my research takes place in the Arctic, but an increasing amount is done on other large rivers around the world. I'm thrilled that the Global Rivers Observatory's long-simmering idea of a series of "floating workshops" is now a reality.

Ben Ives
I am an architect and a husband and father of 2 young boys. I have architecture degrees from the University of Virginia and ParsonsThe New School. I have lived in Montana and have been missing the dramatic landscapes of the northwest. As a visual person, I enjoy observing the processes of nature around me. Seeing as well as having the scientific information to describe 'hidden' interconnections in the natural world is a special event. As an architect, I try and integrate natural processes, phenomenon, like sunlight, into my practice and study the science of building to improve human comfort and conserve resources. I enjoy basketball as well as camping.

J. Atwood ("Woody") Ives
I am a retired business man and graduated from Yale University and Stanford University Graduate School of Business. My professional career includes CPA, investment banker, and I retired as CEO of Eastern Enterprises. Currently, I am a Trustee of Museum of Fine Arts-Boston and Overseer at WGBH Education Foundation. I am concerned about global warming and its effect on life on our planet.

Kathy Kretman
Since 2001, I have served in a number of roles at Georgetown University, which currently include the Waldemar A. Nielsen Chair in Philanthropy; Director of the Center for Public and Nonprofit Leadership; and Research Professor at the McCourt School of Public Policy. One of the highlights of my career has been directing Georgetown's nonprofit executive certificate program, which now has 1,300 alumni across the globe, including WHRC's Max Holmes. I have always been interested in WHRC's work from afar, and now I am delighted to be part of the team, as a member of WHRC's President's Council. I have a Ph.D. in Political Science from the University of Maryland, an M.A. in Public Administration from George Washington University, and a B.S. from the University of Texas at Austin.

José Mauro Moura
I am an Assistant Professor at the Federal University of Western Pará (UFOPA). I have a degree in Biological Sciences from the Federal University of Pará -UFPA (2000), a MSc (2005) in Ecology of Agroecosystems, and a PhD (2010) in Chemistry in Agriculture and Environment, from the Center for Nuclear Energy in Agriculture (CENA). My experience is in the area of ​​biogeochemistry of aquatic and forest ecosystems, with an emphasis on the flow of organic and trace gases (RN-222 and CH4). I use stable isotopes of carbon, nitrogen and oxygen, and study gas flows in rivers and soils, and measure vertical profiles of tropical forests.
Luckily, I grew up seeing the biggest (Amazon) and one of the most beautiful (Tapajos) rivers in the world, meeting in front of my city. I'm from Santarem and a few years ago I returned to my home city to work as a professor at the same university I graduated from. However, just the pleasure of seeing the rivers was not enough. I wanted to understand their behavior and functioning. So, after finishing my PhD, I decided to focus my research on water.

Bernhard Peucker-Ehrenbrink
Growing up, we used to spend some of our summer vacations on tributaries of the Danube, folding boats using newspapers and damming the flow with pebbles and boulders. It took me some time to appreciate how important rivers are to understanding the chemistry of seawater. Now, river research is at the core of my research program at WHOI. Organizing river expeditions like this one is the best way I can imagine to learn about rivers, coordinate river research, and spend time with friends surrounded by beautiful landscapes, fauna and flora. Enjoying good food, drinks and discussions adds to the fun.

Rick and Linda Semels
Rick and Linda Semels live in Cos Cob, Connecticut. We are both retired, but seem to be busier than ever. Frequent travel plus responsibilities for granddaughters' day care have occupied much of the last several years. Prior to retirement, Rick was with an investment management firm in Glenville, CT.
We were very fortunate on our first tour of Woods Hole to find R/V Knorr at the dock and were able to tour that vessel as well as much else at the Institute. Earlier this summer we were also able to tour the R/V Neil Armstrong and see the dramatic improvements in research capabilities aboard the new boat. Rick has also been able to participate in several summer day trips out of Woods Hole on the R/V Tioga. We follow WHOI's very important research with great interest. We are both excited to be able to participate in our first extended WHOI cruise.

Indra Sen
I am an assistant professor in the Department of Earth Sciences at Indian Institute of Technology in Kanpur, India. By training, I am a geochemist having graduated (Ph.D.) from Florida International University (USA) and did my postdoc in WHOI's Marine Chemistry and Geochemistry Department. My research interests include the application of isotope and trace element geochemistry in order to understand Earth's surficial processes, and understanding the linkages between rivers and cryosphere is one of them. I am presently trying to develop a hydrogeochemical model to evaluate the proportion of glacial melt-water in the Ganges River.

Bill & Jensie Shipley
Jensie: Bill and I met sailing on Pleasant Bay in Chatham, MA. We were married three years later, after my junior year at Mt. Holyoke College. I finished college at MIT and worked as a research assistant in auditory physiology at the Mass Eye and Ear Infirmary for a few years before our three daughters were born. Most of my time has been spent on the family and volunteering, first with The Friends of the Mass General Cancer Center and more recently with a Brookline, MA (where we live) school program, mentoring students who live in public housing. We enjoy sailing, tennis, traveling and bridge. The Columbia River has been on my "bucket list," so when this opportunity presented itself we signed on. I look forward to observing and participating in the science.
Bill: I graduated from Yale University (B.A.) in 1962 and Harvard Medical School (M.D.) in 1966. I am from academic and medical families. My parents met as graduate students at Yale in 1930. On my father's side we have had three generations of academics; on my mother's side I am the 5th generation of physicians. Because my father was a college professor, we were able to summer on Cape Cod (in Chatham) beginning in 1949. My academic medical career includes 51 years at the Mass General Hospital and Harvard Medical School and, as an academic professor, has focused on developing new cancer treatments, mainly for patients with prostate and bladder cancer. I joined WHOI over 10 years ago on its Corporation through my friendship with and respect for Ruth and Jim Clark and have tried to be helpful. Jensie and I have three daughters who, with their families, join us in Chatham for much of the summer. We will bring a pack of cards or two with us on the trip in case any others would like to play bridge, which also is an interest of ours.

Alison Smart
Alison oversees WHRC's fundraising and communications functions. She works closely with the Center's board of directors, staff, and partners to advance the Center's priority initiatives. Alison is passionate about her role in helping to reduce the threats from climate change: "The idea of using my experience to make even a small contribution toward this massive challenge is incredibly motivating."

Rob Stenson
I have always had a compelling love of science. I am a Registered Nurse by training and have a Masters degree (MS) from Northeastern University. My credentials currently are as a Nurse Practitioner in Massachusetts. I practiced in the ER and ICU and as an NP in Internal Medicine until retiring a few years ago, after nearly 30 years of practice. Currently I have the great privilege of working with Max Holmes as a volunteer "citizen scientist" with the Cape Cod Rivers Observatory (CCRO). My personal goal for CCRO is to show a correlation between humans and the consequences we impart to the environment via our rivers. I hope to approach this similarly to the science in medicine where blood is drawn and analyzed to assess what is normal and what is not. The river is our patient, we are the vectors of harm as well as the hope for the cure. I am looking forward to this exciting trip as well as meeting and working with so many knowledgeable people studying the effects of climate change.

Anya Suslova
I graduated from Teri University in India with a masters degree in Climate Science and Policy. Born in the Siberian arctic indigenous village of Zhigansk, I was a citizen scientist before there was "citizen science." I met Max Holmes and a group of scientists through my father, when Max was collecting water samples on the Lena River. I continued to retrieve samples throughout the year to help the scientists' research. Collecting these samples as a teenager shaped my current interest, which bridges climate science and indigenous peoples. For my masters I researched the resilience of arctic populations to climate change.

Van Pham Dang Tri
Van Pham Dang Tri (Associate Professor, Ph.D.) is currently the Head of the Department of Water Resources, College of Environment and Natural Resources, Can Tho University, Vietnam. With a wide range of scientific background, he focuses on integrated research with great attention to waterscape management and river modeling, and tries to understand possible impacts of climate change on behaviours of the different river networks and changes of agriculture and aquaculture in the Vietnamese Mekong Delta. He is presently participating in different national and international projects as either a project manager or a technical advisor.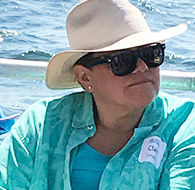 Claire Umanzio
I was born and raised in Cambridge, MA, receiving both my undergraduate and law degree from Boston College. My professional career spans over 30 years in the area of tax and real estate. Following my tenure as a senior tax manager with Coopers and Lybrand, I joined The Berkshire Group, and am currently a Senior Vice President, Tax. I love to travel, both near and far. My love and respect for the ocean can be traced to a childhood of summers spent at the shore. I have been supporting WHOI and have been attending WHOI public events for a few years.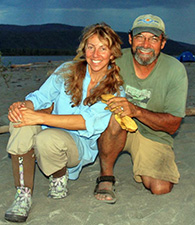 Jon Waterhouse and Mary Marshall
Environmental Stewards, Indigenous Peoples Advocates, Oregon Health and Science University
Mary and I believe that when contemporary science and indigenous knowledge are blended, a clearer measure of global environmental and water health emerges. Beginning on the Yukon River, we now collaborate with various Indigenous groups residing within some of the most remote watersheds on the planet. While providing leading edge water science technology, we document what we learn from our Indigenous partners about the cultural methods they've enlisted for generations to assess and adapt to climate and environmental challenges. Through our indigenous connections around the world, we are building a visual 3D database of cultural water knowledge and scientific water-quality data, while also bringing together these small populations who are often continents apart. We are honored to be National Geographic Explorers. I head the Indigenous Peoples Program at the Oregon Health & Science University, am a National Geographic Education Fellow (Emeritus), and was appointed to the CEC/JPAC by President Barack Obama. Mary is a freelance photojournalist. We live in the Columbia Watershed and are thrilled to be part of this wonderful team!

Kelly Westerhouse
Over the past two and a half years working in development at WHOI, I have become an ocean science sponge – always taking in new information. As a non-scientist who does education and outreach, the ocean world offers lots to discover and my science vocabulary is continuously expanding. I work in Woods Hole but I was a fresh water fish first – spending summers in the Adirondacks and near Cooperstown, NY. I have traveled the entire East Coast from Newfoundland to the Virgin Islands, including sailing on WHOI's R/V Neil Armstrong twice and taking day trips on our coastal vessel Tioga. This is my first visit to Oregon and Washington – and my first science expedition.