After taking advantage of the last remnants of daylight yesterday to collect water from the Robson River for filtration back in Valemount, today the sampling began in earnest. We started off under hesitatingly sunny skies at the Mount Fitzwilliam trailhead for our furthest upstream station. We were fortunate to have good weather while working out the kinks of our regimen, and even took a quick sample from the outflow of Yellowhead Lake, one of only two lakes on the Fraser's main stem.The day turned overcast as we made our way back to our station on the Robson River, where the visitor's center just closed for the season on Monday. A few intrepid late-season hikers stopped to say hello as we pumped water through our filters into the collection of bottles we bring to each station.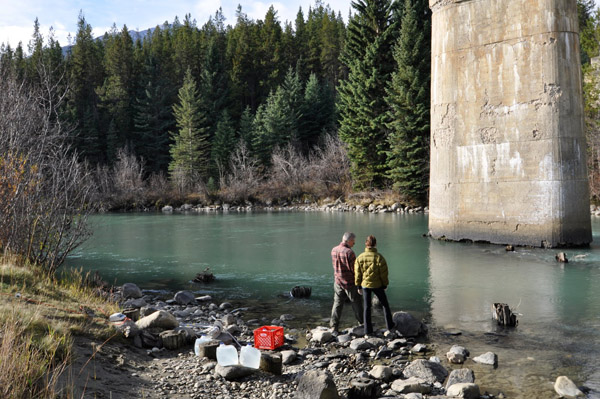 Fearing poor weather prospects for tomorrow and energized by our success with the first two stations, we decided to drive to McBride for a third. We were greeted on the banks of the now muddy Fraser with light rain, cold wind, and lovely exposed bank deposits.
We are spending our last night in Valemount filtering today's large-volume samples. We hope to collect enough particulate matter on these filters to measure a suite of bulk chemical characteristics (organic carbon and nitrogen content, stable carbon and nitrogen isotopes, radiocarbon, and trace metal content). The Fraser is dominated by very fine particles, which makes trapping large quantities of suspended material difficult. One of the main goals of our project is to collect sufficient suspended organic matter to make compound- or compound class-specific radiocarbon measurements to better constrain the specific sources of organic matter within the drainage basin. Here in the headwaters, where the river is carrying mainly products of mineral erosion, we will likely only collect enough organic carbon for bulk analyses. But hope springs eternal!